Armorcoat Window Film
Window Tinting Denver Colorado and Surrounding Metro Areas:
Denver, Denver, Lakewood, Aurora, Parker, Boulder, Louisville, Castle Rock, Commerce City
Colorado Springs, Englewood, Fort Collins, Evergreen, Golden, Greeley, Lone Tree, Westminster, Wheatridge
Thorton, Northglen, Broomfield, Brighton, Arvada, Greenwood Village, DTC, Cherry Hills, Littleton
Avon, Vail, Golden, Pueblo, Grand Junction, Lakewood
ARMORCOAT BOMB BLAST SIMULATION VIDEOS ( Must See )
Architectural Film | Armorcoat | Solar Film | Specialty Films
( Security and Safety Film for Earthquakes ( Glass Breakage) Break Ins, High Winds )
Armorcoat Commercial Tinting · Educational Tinting · Entertainment Tinting · Government Tinting · Hospital Tinting
Lodge Tinting Museum Tinting · Public Transportation Tinting · Residential Tinting
Restaurant/Hospitality Tinting - Retail Tinting· Automotive Tinting - Armorcoat Denver Colorado

Amoco - Clear Safety Films - Solar Safety Films - Optimal Glass Retention
Solar Control Safety Film - GSA Approved Safety Films - Architectural Tinted Window Films
Panorama Window Films - Blast Mitigation Film - Window Tinting Denver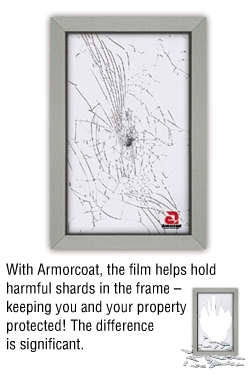 Armorcoating The Brand of Strength
The name says it all - Armorcoating is a thick, optically clear barrier film that is retrofitted to the inside of windows to reinforce glass around-the-clock, helping to hold it safely in place upon impact should an attempted break-in , natural disaster or bomb blast occur. Armorcoat is made from only the highest quality materials, such as tough, high tensile polyester and ultra-strong mounting adhesives - available in thickness ranging from 4 to 14 Mil (.004" to .014" or 100 to 350 microns) and offered in clear and solar control versions. Plus, stronger glass resilience can be achieved with attachment system options.Will help you select the right level of protection for your property from our wide variety of thickness, tints and performance levels.
Armorcoating has passed some of the most stringent government and consumer testing . Also popularly referred to as glass fragment retention, anti-shatter film and Mylar, Armorcoat is the preferred protection product among home and business owners, and property managers worldwide. Put Armorcoating safety window film on guard for you!
The Protection

Violent Storms and Hurricanes · Earthquakes · Bomb Blasts · Electromagnetic Interference
Theft, Intruders and Vandals · Solar Heat and Ultraviolet
Clear Safety Film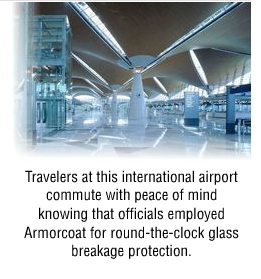 Armorcoating clear safety films are a widely accepted glass retention solution for properties around the globe. These films are colorless and undetectable on glass, which makes them the perfect protection retrofit. The resilient layers of high-tensile polyester, aggressive adhesives, ultraviolet inhibitors and scratch-resistant coatings provide exceptional blast mitigation and impact resistant capabilities - with thicker films offering greater protection. Not only do these clear films help hold broken shards in place, the ultraviolet inhibitors help protect your merchandise and valuables against fade damage.
| | |
| --- | --- |
| | |
| | Clear Safety & Security - The Series |
| | 7 Film(s) In Series |
| | Visible Light Transmitted 90-87% |
| | Total Solar Energy Rejected 14-19% |
| | Ultraviolet Light Blocked >98% |
Solar Safety Film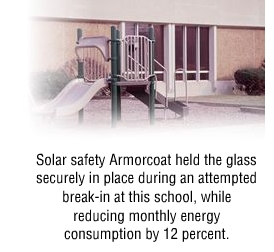 Armorcoating solar control films are tinted to provide additional sun related benefits, beyond ultraviolet protection. Choose from grey-toned Stainless Steel, Solar Bronze's warm copper finish and the more private and reflective Silver series. These films include a metallized layer of polyester, sputter-coated with durable, exotic metals for exceptional, solar control performance capabilities and color. In addition to glass retention, they're selected for their ability to offer privacy, balance temperatures, minimize eye-straining glare, and help preserve furnishings and merchandise. Protect your occupants and property while keeping them cool and comfortable, plus yield significant energy consumption reduction with solar safety Armorcoating.
| | |
| --- | --- |
| | |
| | Solar Safety & Security - The Series |
| | 14 Film(s) In Series |
| | Visible Light Transmitted 49-14% |
| | Total Solar Energy Rejected 42-80% |
| | Ultraviolet Light Blocked >98% |
Attachment Options:
Optimal Glass Retention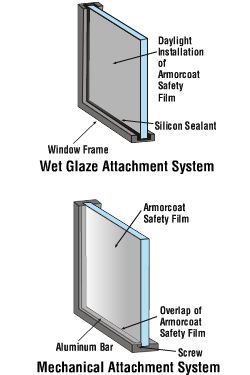 Armorcoating for coastal areas, government facilities and any other property that requires the highest degree of glass breakage protection, ask your us about attachment system options. When Armorcoating is retrofitted to your windows, the installer can either install the chemical (wet glaze) or mechanical attachment system - offering even stronger glass resilience and more effectively preparing your building for potentially hazardous events. The type of attachment system used depends on the amount of extra protection needed, your window types and budget.
Architectural Film | Armorcoat | Solar Film | Specialty Films



Tinting - Automotive - Armorcoat - Clear Safety Films - Solar Safety Films -
Solar Control Safety Film - GSA Approved Safety Films - Optimal Glass Retention
Blast Mitigation Film - Architectural Tinted Window Film - Armorcoat Denver Colorado


Armorcoat Commercial Tinting · Educational Tinting · Entertainment Tinting · Government Tinting · Hospital Tinting
Lodge Tinting Museum Tinting · Public Transportation Tinting · Residential Tinting
Restaurant/Hospitality Tinting - Retail Tinting· Automotive Tinting - Armorcoat Denver Colorado
Window Tinting Denver Colorado and Surrounding Metro Areas:
Denver, Denver, Lakewood, Aurora, Parker, Boulder, Louisville, Castle Rock, Commerce City
Colorado Springs, Englewood, Fort Collins, Evergreen, Golden, Greeley, Lone Tree, Westminster, Wheatridge
Thorton, Northglen, Broomfield, Brighton, Arvada, Greenwood Village, DTC, Cherry Hills, Littleton
Avon, Vail, Golden, Pueblo, Grand Junction, Lakewood