Denver Window Tinting
Residential - Commerical - Automotive - Window Films
Architectural Film | Armorcoating | Solar Film | Specialty Films | Automotive Films
( Security and Safety Film for Earthquakes ( Glass Breakage) Break Ins, High Winds )

Denver Window Tinting is your one stop source for glass protection for Colorado window tinting
and window film. Get Window tint, window tinting, window film, UV protection, fade protection,
security film, anti graffiti, and decorative films for Commercial, Residential and Government window tinting.

Commercial Tinting · Educational Tinting · Entertainment Tinting · Government Tinting · Hospital Tinting
Lodge Tinting Museum Tinting · Public Transportation Tinting · Residential Tinting
Restaurant/Hospitality Tinting - Retail Tinting · Automotive Tinting


We Come to You

Schedule Appointment


We come to your home or workplace with trained, professional technician providing
a free window tinting estimate.
Available 7 days a week.

Call 303-946-7249

Energy Saving Window Film Product Line For Residential, Commercial Applications.

Hours of Operation:
Monday-Friday
7 a.m.-7p.m.
Saturday
9 a.m.-7 p.m.
Sunday
9 a.m.- 4 p.m.

Amoco - Clear Safety Films - Solar Safety Films - Optimal Glass Retention
Solar Control Safety Film - GSA Approved Safety Films - Architectural Tinted Window Films
Panorama Window Films - Blast Mitigation Film - Denver Window Tinting
Window Tinting Denver Colorado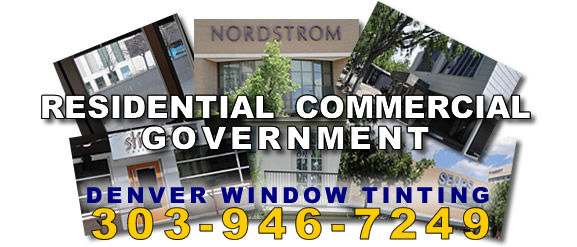 Window Film Thicker than standard window tints, GSA approved
safety films hold glass in place upon impact for
architectural & government applications.

Tinting reduces fading, heat, glare, UV damage and energy bills.
Premier tinting line of residential and commercial
solar control and safety films.

Architectural Film | Armorcoating | Solar Film | Specialty Films | Automotive Film



Tinting - Automotive - Amoco - Clear Safety Films - Solar Safety Films -
Solar Control Safety Film - GSA Approved Safety Films - Optimal Glass Retention
Blast Mitigation Film - Architectural Tinted Window Film - Window Tinting Denver




Window Tinting Denver Colorado and Surrounding Metro Areas:
Denver, Denver, Lakewood, Aurora, Parker, Boulder, Louisville, Castle Rock, Commerce City
Colorado Springs, Englewood, Fort Collins, Evergreen, Golden, Greeley, Lone Tree, Westminster, Wheatridge
Thorton, Northglen, Broomfield, Brighton, Arvada, Greenwood Village, DTC, Cherry Hills, Littleton
Avon, Vail, Golden, Pueblo, Grand Junction, Lakewood
303-946-7249


Awards / Certifications
( Click Here to View )
Licensed - Insured
24 Hours - 7 Days





STATE WINDOW
TINT LAWS


Denver Window Tinting
Denver CO 80210
Phone:303-946-7249
Fax: 303.757.1295
Monday-Friday
7 a.m.-8 p.m.
Saturday
7 a.m.-7 p.m.
Sunday
11 a.m - 4p.m
303-946-7249





Window Tinting
Denver Colorado
Window Tinting Denver
Colorado Window Film
Denver Window Tinting